PO Box 263
Vicksburg, MI 49097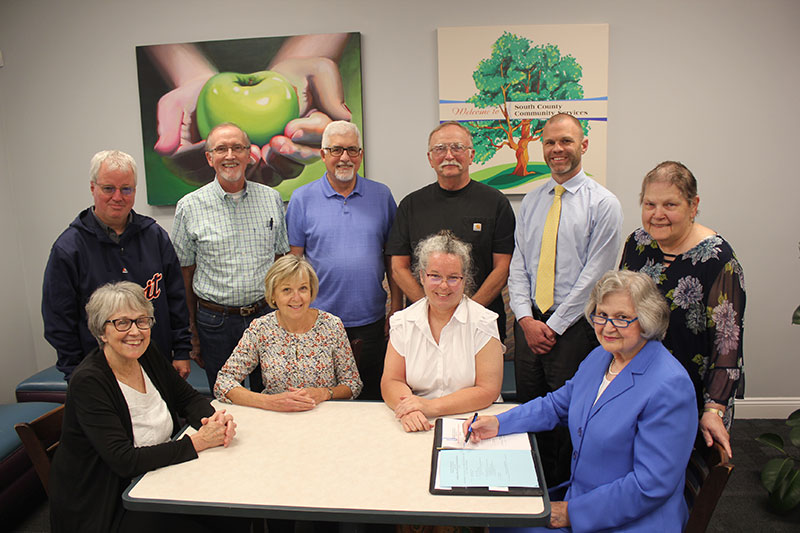 Pictured here are the members of the South County Community Services Board, the group of dedicated volunteers who govern the agency. Back Row (left to right): Pastor Greg Culver, Rick Davison, David Sirotti, Larry Forsyth, Andrew Horne and Lorna Landrum.  Seated (left to right): Danna Downing, Director, Deb Vliek, Noni Heikes and Jacklyn Skinner, Board President. David Sirotti is currently serving as Treasurer. Deb Vliek is the current Secretary.  Larry Forsyth is the chairperson of the Personnel Committee and Facilities Coordinator.
Together this group volunteered 1278 hours in 2018 to support the SCCS Mission and Goals. The board meets monthly except for the month of December. Primary strategies and goals for 2019 include:
Completion of the succession plan for the retirement of the SCCS Director

Completion of Stage 4 of the AGING WELL IN SOUTH COUNTY initiative, including senior outreach growth in the areas of transportation, basic needs, and connections to the services seniors need to remain healthy and independent as long as possible in their own community.

To maintain and grow partnerships with emergency service agencies and community groups to make sure that South County residents can meet their basic needs on a regular basis.

Securing sustainable funding for programs and services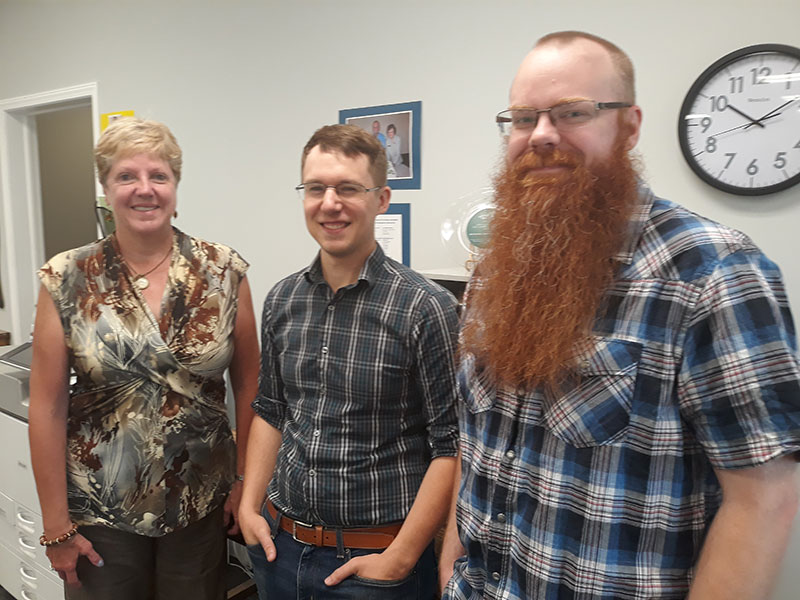 Tamra Stafford, Drew Johnson and Austin Wiggins.
Austin is the new Emergency Assistance Coordinator at South County Community Services. He has years of experience in working with people low-income families and people with disabilities. 
Tamra is our new Transportation Coordinator. She come from 15+ years of experience at the Kalamazoo Air Zoo, where she managed volunteers and helped coordinate events.
Drew is the new Executive Director at SCCS. He has spent 10+ years working in social work in a variety of capacities and recently completed his Master's in Public Administration (Nonprofit Leadership) at Western Michigan University.
Drew and the SCCS Board are excited about the new hires and the skills and dedication they will bring to South County residents. 
In the coming months, SCCS hopes to be bringing a new Senior Outreach Coordinator on board. The senior outreach position and the transportation coordinator are made possible by Vicksburg United Way and Senior Millage support, as well as prudent use of operational funds.
Under the leadership of the SCCS Board, and with strong community support, the agency expects to continue to increase the number of families served and the breadth and depth of current programming.  We invite you to get involved and join the fun!